Особенности продукта
Diamond grid pattern
Easy to install and repair

Aleksandr Andreev
Sales Manager
Документация кабеля
Application areas
Production and storage facilities
Commercial and residential gyms, garages
Car service stations and washes
Shopping and exhibition areas
Specifications
| | |
| --- | --- |
| Tile thickness | 14 mm |
| Tile size | 205х54 mm |
| Tiles number per 1m² | 95 pcs |
| Average weight of one tile | 90 grams |
| Operating ambient temperature | from -30°С to 40°С |
| Material type | PVC |
| Amount of trapped dirt | 7 l/ m² |
Advantages
Durability. The VOLTA® interlocking flooring doesn't dust, crumble, absorb oil and liquid. It is resistant to gasoline, solvent, acid, alkaline, high and low temperatures. It withstands high pedestrian traffic and shock load such as multiple dropping of tools, equipment, barbell, even entire car. PVC tiles are extremely durable. The only thing one can do to them is to cut on purpose. And even if you have managed to harm the flooring there is no need to change it entirely. Just replace the damaged tiles. It costs no more than replacing a light bulb.
Cost-effectiveness. PVC flooring is made of polyvinyl chloride, the most affordable polymer, therefore it is much cheaper than professional rubber flooring.
Ecological safety. Polyvinyl chloride is one of the most ecological polymers known. It only emits chlorine during the production and disposal stages and is absolutely safe to use. PVC has been around for at last fifty years. Sport equipment, clothes, children toys, plastic windows and pipes, furniture and dishes are often made of PVC. We use it to make insulations and sheaths, for instance.
Easy to install and repair. Installing interlocking tiles is about the same as putting together a jigsaw puzzle. One person can lay it alone using only a hammer to press down connections. Unlike a fluid applied flooring that requires removing all the equipment from the room the tile floor can be installed in parts. After laying out a piece you can place equipment on it and keep on laying.
Fire-resistance. We add chalk to the polymer so the tiles are fire-resistant. You can set them on fire, but soon the flame will go out by itself.
Фотогалерея товара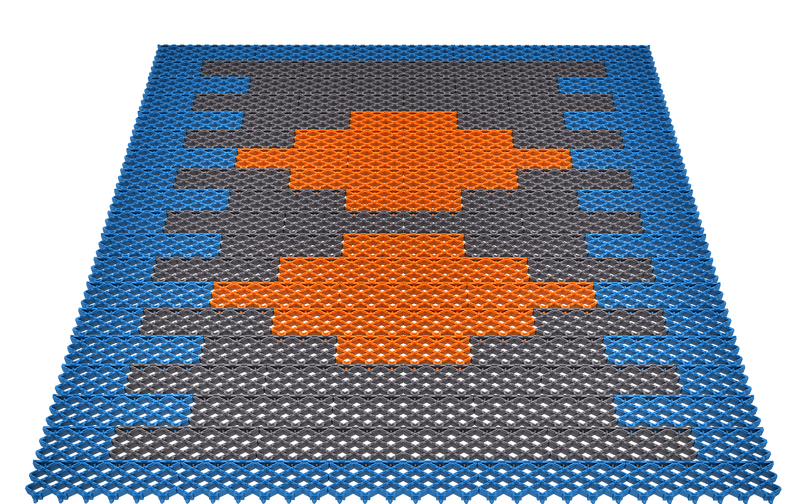 Часто задаваемые вопросы
Frequently asked Questions
Как узнать цену на напольное грязезащитное покрытие?

Цена на грязезащитное напольное покрытие VOLTA® зависит от исполнения и объемов заявки. Поэтому, чтобы получить ценовое предложение на наш ассортимент, Вам необходимо сформировать запрос и направить его на почту info@selcab.ru или Вашему персональному менеджеру.

Какая продукция есть в наличии?

Мы работаем по концепции интеллектуального склада. Система следит за движением товара на всех этапах: прием, хранение, резервирование и отгрузка. Мы всегда знаем, сколько товара есть в наличии, сколько времени займет исполнение вашего заказа с учетом остатков готовой продукции и сырья. Менеджер ответит на ваш запрос день в день. Если информация нужна регулярно, подпишитесь на рассылку мы будем присылать данные по складским остаткам ежедневно. Так же обращаем внимание, что грязезащитное напольное покрытие является для нас серийными продуктом и всегда есть в наличии в большом количестве!

Для решения о закупке требуется образец. Можно ли его получить?

Можно! Для получения образца необходимо обратиться в отдел продаж по многоканальному номеру 8 (4812) 250-655. Необходимый образец будет отправлен Вам в день запроса курьером за наш счет!