Interlocking PVC flooring
The VOLTA® interlocking flooring is designed to be used in both industrial and civil buildings. It is made of polyvinyl chloride, the most affordable polymer, therefore it is much cheaper than professional rubber flooring. PVC tiles are resistant to gasoline, solvent, acid, alkaline, high and low temperatures and able to withstand high pedestrian traffic.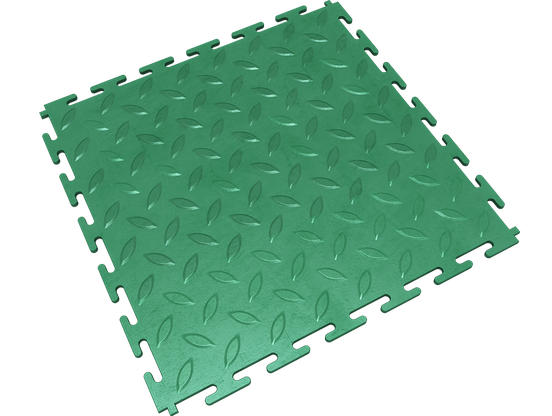 Frequently asked Questions
Frequently asked Questions
What stress does PVC flooring withstand?

The VOLTA® interlocking flooring is resistant to gasoline, solvent, acid, alkaline, high and low temperatures withstands a shock load such as multiple dropping of tools, equipment, barbell, even entire car. It doesn't dust, crumble, absorb oil and liquid unlike the bare concrete floor.

Is it hard to lay out and repair the PVC tile floor?

Installing interlocking tiles is about the same as putting together a jigsaw puzzle. One person can lay it alone using only a hammer to press down connections. Unlike a fluid applied flooring that requires removing all the equipment from the room the tile floor can be installed in parts. Lay out a piece, then you can place equipment on it, and keep on laying. PVC tiles are extremely durable. The only thing one can do to them is to cut on purpose. And even if you have managed to harm the flooring there is no need to change it entirely. Just replace the damaged tiles. It costs no more than replacing a light bulb.

Does PVC contain any harmful chemicals? Is it flammable?

Polyvinyl chloride is one of the most ecological polymers known. It has been around for at last fifty years and is absolutely safe to use and. Sport equipment, clothes, children toys, plastic windows and pipes, furniture and dishes are often made of PVC. We use it to make insulations and sheaths, for instance. PVC flooring is a safe and durable covering suitable for production shops, warehouses, gyms, shopping areas, garages, and car service stations. We add chalk to the polymer so the tiles are fire resistant. You can set them on fire, but soon the flame will go out by itself.

How much does PVC interlocking flooring cost?

The price depends on the product type and order volume. To get a relevant price list email your request to info@selcab.ru. Our manager will send you a quotation as soon as possible. We use the Smart Warehouse concept and always know how much PVC flooring is available right away. It is our mass-produced product, therefore, as a rule, there is always plenty in stock.